Old Coastguard's North Cottage
Old Coastguard's is a character cottage that has recently been restored to an extremely high standard and awarded 4 Stars by Visit Britain. Sumptuous furnishing graces light filled rooms, with breathtaking views to Tennyson Down, the Solent and Headon Warren.
The cottage's location, nestled between the two downs and as one of the most westerly properties on the Isle of Wight, within walking distance of Alum Bay and the Needles, make it a dream location for walking holidays. The cottage is secluded, surrounded by open fields, yet Warren Farm, an award winning tea rooms, and the Highdown Inn, serving delicious local food and ales, are both within walking distance.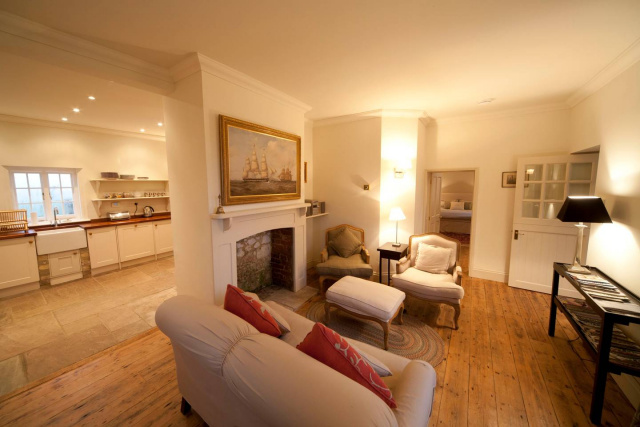 The property is rich with history and a stay at Coastguard's can include access to 'the Lookout', a delightful two room cottage with high bunk beds (see below), formerly a lookout cottage where the coastguards would watch for smugglers coming up from Alum Bay.
The old outhouse has been converted to a luxurious wood-burning sauna, complete with heated outdoor shower. The sauna's porthole window looks out over the fields to Tennyson Down and the Solent.
The main cottage sleeps 4 with a master bedroom and a further bedroom with a smaller double bed (only accessible from one side). The capacity can be extended up to six if a double sofa bed in the small reading room is used, and even to eight if the Lookout is hired, for a 20% surcharge. Please
click here for rate information
.
'This is the best holiday cottage on the Isle of Wight we have stayed in. The tranquil and peacefulness of it all, we will definitely book this for next year.' - February 2018
'Old Coastguards was a little piece of heaven, can't wait to go back to experience it all again. I wish I had had a week, to soak up more of the atmosphere, sink deeper into the surrounding rural tranquillity and indulge over and over, in the comforts of this wonderful cottage. Absolutely loved it.' - Family of 4, February 2011
'The house was perfect and the views in both directions stunning.' - Family, June 2010